TRIGLIDE® EFFICACY
Triglide® is indicated, as an adjunctive therapy to diet, for primary hypercholesterolemia, mixed dyslipidemia and severe ​hypertriglyceridemia. It has been proven effective in improving each of the key measures of the lipid profile, lowering LDL-C, TG and Total-C, and raising HDL-C1
Primary Hypercholesterolemia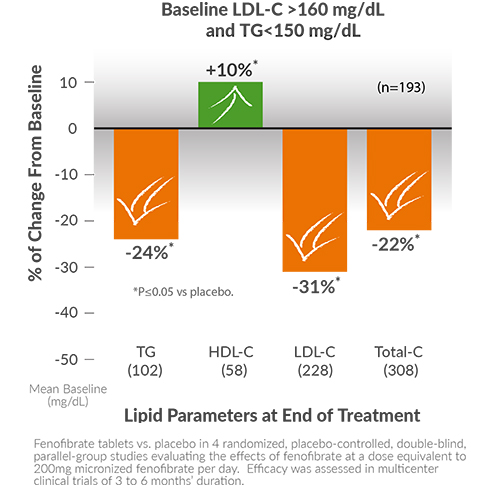 Mixed Dyslipidemia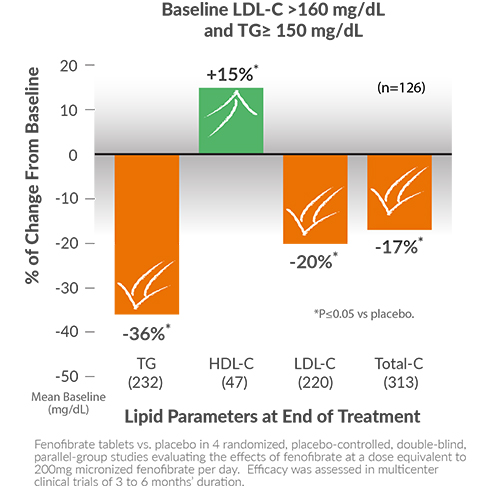 Hypertriglyceridemia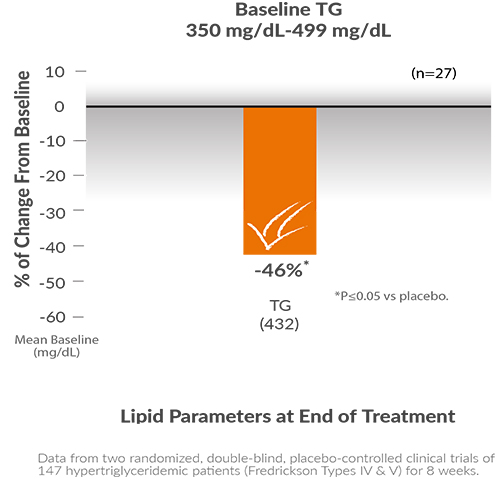 Severe Hypertriglyceridemia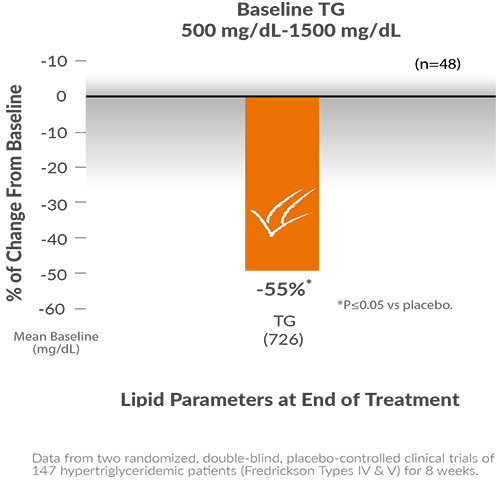 Since their introduction into clinical use in France in 1975, fenofibrates have become one of the most commonly prescribed fibrates worldwide3. A 1988 study cited more than 6 million patient years of fenofibrate exposure outside the US, and concluded that it can be considered a safe and well-tolerated lipid-lowering drug6.
A 2006 review noted that more than 80 clinical trials have been performed in the US, involving more than 9000 patients, again concluding that fenofibrate is generally well-tolerated3,6.
During 2016, in the US, more than 650 million doses of fenofibrates were prescribed by 250,000 physicians nationwide2.
In double-blind, placebo-controlled trials, 200mg fenofibrate capsules (equivalent to 160mg Triglide tablets) resulted in adverse events that led to discontinuation in 5% of patients, compared to 3% of patients treated with placebo1.
IDD®-P MICROPARTICLE TECHNOLOGY
Triglide is a unique fenofibrate: it has no AB-rated equivalent5. A major differentiator is that 160mg Triglide tablets are formulated using IDD-P MicroParticle technology to reduce particle size and increase the total surface area of the active medication within the tablet.
The clinical challenge when using some other formulations of fenofibrates is their low bioavailability when taken under fasting conditions. With these medications, absorption is increased when the medication is taken with food, especially fat3.
Use of the MicroParticle technology in Triglide tablets enhances absorption and optimizes bioavailability. The extent of absorption of Triglide is comparable between fed and fasted conditions, so it can be taken without food.
A single 160mg Triglide tablet exhibits comparable bioavailability to a single 200mg fenofibrate capsule, micronized1.
Today's adult patients on one or more medications typically have to think about when they should take each of their medications, and if medications require fasting, food, or specific intervals after meals. Triglide's® single tablet, 160mg dose can be taken any time of day, with or without food.
Casper Pharma has made Triglide® more affordable for patients concerned about the costs of medications. As a physician, you can offer your patients FREE trials and unlimited refills at a $0 co-pay. That's an entire year's worth of Triglide® at no out-of-pocket cost to the patient. Savings cards can be presented at any retail pharmacy to receive FREE trial and discounted refills at no cost to the patient.
Download cards as needed to provide to your patients. Cards accepted at any retail pharmacies for eligible patients with commercial insurance. Not valid for prescriptions covered under Medicaid, Medicare and other federal or state programs.